CRISTEC CONNECT Bluetooth application
Manufacturer of chargers for more than 30 years, CRISTEC is proud to offer you its brand new

12V 40A and 12V 60A chargers equipped with a Bluetooth function (except OE version – original equipment – optional).
Thanks to CRISTEC CONNECT application, you can manage the supervision of your charger and your batteries from your mobile phone or tablet.
This allows you to scroll through voltage and current information. charging phase information, charger voltages and current, as well as temperature (with optional probe) and AC input voltage and frequency.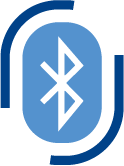 A Bluetooth Low Energy application
The

chargers are equipped with Bluetooth Low Energy (BLE), a variant of "classic" Bluetooth.
The major advantage of BLE is its low consumption (it consumes half as much as classic Bluetooth).