BAT-MON-3.5 battery monitor
Brand new CRISTEC's advanced battery monitor for most demanding users. For up to 3 battery banks or power generation (DC source), 3 additional battery voltages readings.
The battery monitor BAT-MON shows all relevant standard data as voltage, current, remaining capacity and time of the house battery and one additional voltage of starter or bow batteries at the same time. Moreover the battery monitor BAT-MON records history data of your battery as average discharge depth, unavailable battery capacity and number of charge/discharge cycles.
An active high-precision 300A shunt unit is provided as standard and it can be used for battery control. Two extra ones can be used as option. For each used shunt an additional voltage measurement is also available (i.e. bow battery).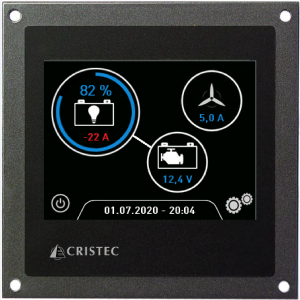 See datasheet