CRISTEC is Energy Management partner of Bato à Film
"Bato à Film" is a cultural and maritime project around Latin America:
21 000 Mn on the ocean, one year of travel including 8 months spent at sea, 2 oceans covered and 12 countries visited, 16 animated short films, 20 stopovers and more than 70 participants in artistic residences and/or Navigations…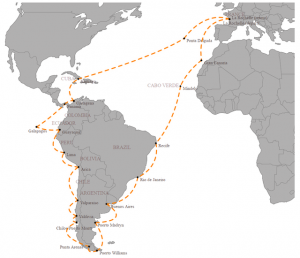 Each of the stop-over cities will be the subject of a short film directed by the artists participating in the workshops organized in these cities. This audiovisual creation will be the pretext for an exchange with local personalities, enriching the visions of their own views of intellectuals, historians, sociologists, architects and town planners on their city.
The energy management aboard the sailboat will be provided by the CRISTEC equipment: battery charger, battery isolator, battery monitor and pure sinus inverter.
They are about to leave Bermuda. After surviving the mysteries of the Triangle, they will cross the Atlantic to the Azores, then La Rochelle! They are waiting for you on August 11th when they arrive in the Trawlers Basin of the old town.
They will take the first lock of the afternoon, at 15:30!