New YPOWER DC battery charger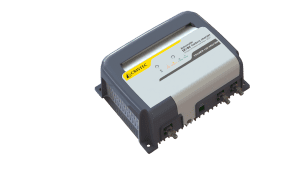 The new CRISTEC YPOWER 12-24V / 30A charger allows you to recharge a 24V battery pack from a 12V DC source while enjoying the benefits of a fast, intelligent charging curve.

Thanks to a comparable regulation to that of a quay charger, the delivered load adapts to all types of batteries : free electrolyte, watertight lead, Calcium lead, gel, AGM, Lithium, etc. The most common application is to recharge the 24V fleet of a thruster from the 12V on-board network.
The YPOWER 12-24V / 30A charger offers many applications thanks to its wide ranges of use, its integrated guards and ergonomics.
Download data sheet